Journal of the GTSC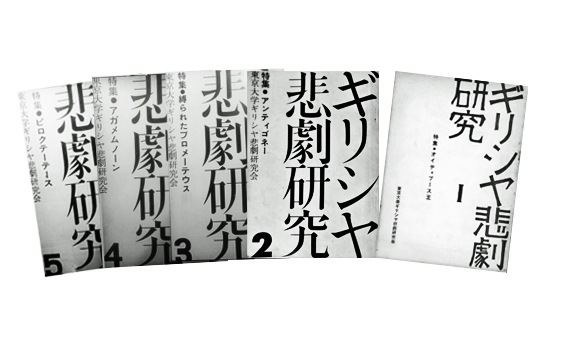 The GTSC (Greek Tragedy Study Club, University of Tokyo) edited and published, after each performance, a journal in Japanese: <Girisha Higeki Kenkyu> (= Greek Tragedy Studies).

Greek Tragedy Studies (in A5 size)
No.1: Special feature: Oedipus Tyrannus, , 2+92 pages, 25 November 1958
No.2: Special feature: Antigone, 3+130 pages, November 1959
No.3: Special feature: Prometheus Bound, 5+122 pages, 1st December 1960
No.4: Special feature: Agamemnon, 6+154 pages, 15 December 1961
No.5: Special feature: Philoctetes, 8+108 pages, 15 July 1963.

* Each volume of the journal contains the performance script, in addition to several related papers contributed by members and supporters. The No.4 contains also a music score of Chorus (the Parodos-part of Agamemnon) and the No.5, the following Chorus parts (of Philoctetes) : Parodos, Epeisodion I, Stasimon I, Commos I, Epodos & Commos II.
* Each volume was published in 1,000 copies and distributed for JPY100 to JPY150 per copy. Publication costs were covered by the admission fee for the performance.
* The Greek Tragedy Studies was issued only up to No. 5.